25 DAYS TO STAND-OUT VIDEO CONTENT FOR ENTREPRENEURS & MARKETERS
One thing is certain. The tidal-wave of video is coming and most entrepreneurs and marketers don't know what to do about it. My goal is to help as many people as I can grow their businesses and influence by creating great, attention commanding video as easily and consistently as possible. This 25 day program IS NOT for video pros. This course isn't about creating pro video. It's about creating AWESOME social media video that powerfully endears your audience to you and your brand.
THE ENDEARMENT EFFECT IS A 25 DAY VIDEO PROGRAM THAT WILL TEACH YOU
WHAT TO SAY IN YOUR VIDEOS
In Part One You Will Learn:
In part one, we will talk about the why of video content marketing.  How to capitalize on this amazing opportunity, and why it is critical you act now.
We will talk about your overall strategy for creating powerful endearing video content that will consistently build your audience of authentic connections over time.
You will learn over 20 different types of content you can create to keep your content fresh and unique.
You will learn what Facebook looks for in content they want to promote on their platform.
You will learn to ensure your content is fully integrated with your brand in order to create a powerful branding machine.
The biggest mistake marketers are making when it comes to content marketing and how to take advantage of their mistakes and make them your wins.
PLUS MUCH MORE!
HOW TO SAY IT
In part two you are going to learn:
The key to creating content that builds endearing fans that know you, like you, trust you and are willing to buy from you.
We will talk about presentation strategies you can use to help to powerfully brand your content based on your business type and goals.
We will talk about where you shoot your video content and why it matters.
I will help you create a strategy to make it simple to create enough content based on your goals and strategy without ruling your life.
You will learn strategies for looking confident on camera and ways to set yourself up as an authority in your field.
You will learn how long your content should be, both based on the platform you are using and your intended audience.
You will learn how to build your own set in-house or in-office that will give you a consistent and branded place to create your content.
PLUS MUCH MORE
HOW TO CAPTURE IT
In part three you are going to learn:
You will learn of your various camera options and whether/when to use a smartphone or a DSLR/video camera.
Why Craig doesn't like green screens for social video content.
You will have a strong understanding of lighting concepts and how to ensure your video looks AMAZING whether you are using video lighting, natural lighting or regular indoor lighting.
You will learn why audio is critical and how to capture amazing audio that will set you apart from your competitors and make your content sound professional every time.  (And why it matters.)
You will learn Craig's favorite tools for editing video fast and easy and how to edit your video TIGHTLY so that it keeps your viewers attention.  Plus, how to keep your need for editing to a minimum.
How to use mobile devices to keep your workflow fast and simple.
How to use graphics and overlays to brand your content consistently without drama.
How to stabilize your camera in any situation and why it is so important.
How to frame and compose your videos.
PLUS MANY MORE TIPS AND TRICKS!
HOW TO DISTRIBUTE YOUR CONTENT FOR MAX IMPACT.
In part four you are going to learn:
The number one most important place you should be putting your video content and why it matters.
How to use Facebook ads to affordably grow your audience with your video content
And, then, how to monetize that audience.
When and why to use YouTube and Google Ads for social video marketing.
Instagram for social video marketing.
How to use SEO & ClipTitles to ensure your video content has a longer life than social alone.
How to ensure your video content leads to actual leads.
How to create a video sales funnnel including which platforms work best.
How to get more people to engage with your content.
How to extend the life of your content both on social platforms and on your own website.
How to use your content to remarket and retarget your audience and potential audiences.
PLUS MANY MORE TIPS AND TRICKS!
WHO THE HECK IS CRAIG AND WHY SHOULD I CARE WHAT HE HAS TO SAY?
Howdy!  Craig here.  With a BA in video & film production, I launched my first internet company in 2001 called Visual Reality.   As a bootstrapped company, I produced hundreds of videos in many genres from on-the-street interviews, dateline style stories dramatic vignettes and sold our educational video series to non-profits all over the world.  This was my first company.  In 3 months I had replaced my current salary at my job.  We were almost instantly profitable and while it was 'small' and bootstrapped I was able to grow it to half a million in yearly revenue in less than 2 years.  In 2004, we made our video content available via a yearly subscription fee which at the time was almost un-heard of on the internet.
What made this unique? I produced all of the video content myself.  I wrote, shot, directed, edited, set up the lighting, the audio and created the motion graphics and music design on every video.  This gives me a unique ability to teach entrepreneurs and social content marketers to create video content in that you need to create a lot of content (which means you are unlikely to depend on a production company) and you hopefully want to do it well.  I can help you.  I've been there and done this over and over again.
In 2006, I launched RevoStock.com.  RevoStock was one of the very first microvideo marketplaces.  Over the next 10 years I would boostrap RevoStock from nothing to bringing in close to 10 million in revenue and again, I grew this company entirely self-funded.  We had over 1,000,000 media products in our marketplaces upload, sold and then purchased by video pros and creatives all over the world.  I grew RevoStock with a mix of Pay Per Click ads, SEO, Social Media and Word of Mouth.  In 2015, RevoStock shut down largely due to a bogus patent infringement lawsuit that began a few years earlier.  While the suit was eventually dismissed, we couldn't bounce back from the after-effects and  I literally had to start over from below ground zero.  
So, in 2015 I launched Trafficality.  Trafficality is a digital marketing company that helps small to mid-size businesses with branding, and digital media growth.  Trafficality focuses primarily on web development, Facebook Ads and Google Ads with an emphasis on SOCIAL VIDEO.  I knew I could take everything I learned starting and growing my previous 2 internet companies over a 16 year time period and help others do the same.  But, I always wanted to launch another start-up.
Enter ClipTitles, a one-of-a-kind subtitled video creation system because what I have know for the last 20 years is VIDEO IS ONLY GETTING BIGGER!  That is why I have consistently doubled down on video and every business I have started has been profitable and successful.
So, for almost 20 years now, my life has been saturated with entrepreneurship and video.  I've been there and done that successfuly 4 times in a row.  Doesn't mean I haven't had my challenges along the way.  But, I believe I am uniquely qualified to help you create stellar video content to grow your brand, audience and influence.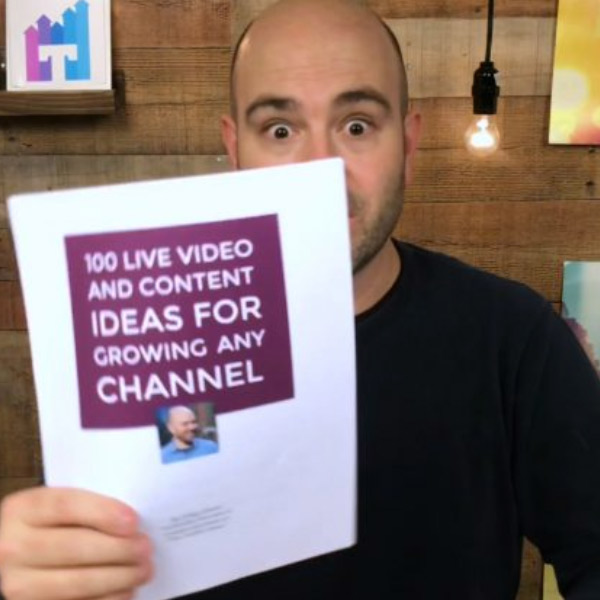 SIGN UP BEFORE FRIDAY AND CRAIG WILL SEND YOU HIS "100 LIVE AND VIDEO CONTENT IDEAS" RIGHT AWAY FOR FREE! (COURSE STARTS ON MONDAY!)
SIGN UP NOW!
CHOOSE COURSE ONLY OR COACHING
*14 Moneyback Gaurantee Details:  If within 14 days from the start of the program, you feel that this program did not provide you any level of value, simply reach out to craig at craigl at cliptitles.com for a refund.